Yah... a lot to say. Haha... and not enough time on our hands. Been hectic hectic H.E.C.T.I.C. :)
SORRY
For not having wedding updates here for awhile. I know it's a little eeeeky have a scary poster greeting you for the past few weeks when you came here... when probably/maybe half of you come in to see wedding picts. Paiseh ah... was the 7th month period, so it was appropriate then. But hey! HAVE YOU WATCHED BLOODTIES???? Go watch it!! :D
SORRY
That you came in here today and didnt see new pictures. I promise there'll be some serious updates soon yup? Will take one nice beautiful crazy weekend, hopefully this weekend, and do a MASS blogging thingy.
THANK YOU
For supportively reading and following our lives and our growth. Have met some of our readers and we were really grateful to know that reading this blog has been bringing you smiles. (*might as well go one step further here - ASK YOUR FRIENDS TO COME READ US TOO!) Haha...
And most of all, thank you for YOU. For your loving hearts. :)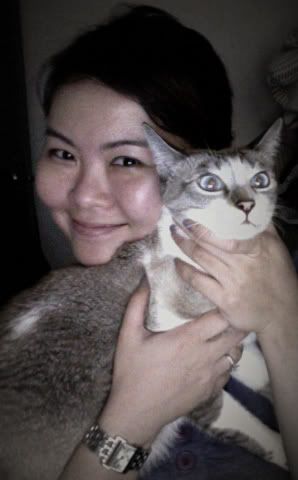 PS: You see... we appreciate you so much that even our LTBL cat wants to show her appreciation by smiling for a nice pic for you (though she looks a tad unwilling here).
Hahaha...